Description
product include 9 cubes rack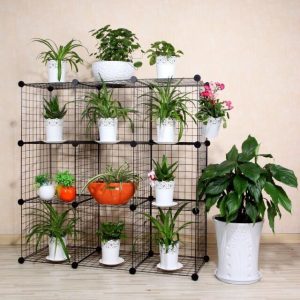 Give Your Plants a Lift With a Plant Stand
If your potted plants are bunched together in a corner of your room or deck, it's time to let them stand out. You can't appreciate their beauty when the spider plants get tangled in the ferns and the ivy wanders all over the floor.
It's also more visually pleasing to see your flowers and greenery at different heights, or to simply show off special plants on decorative pieces. Choose an ornamental stand or go for one that's both useful and practical, with features like grow lights and space-saving tiers.

This red steel stand has a rust-resistant finish, so it can be used indoors or out.

How to Display Your Plants Artfully

Turn a sun room or porch into a mini-forest by arranging green foliage plants on stands in corners, behind sofas and beside chairs. Use short stands to display small ferns on tabletops.

If you're grouping a variety of plants together, avoid a cluttered, chaotic look by using stands of the same style, but different heights or sizes. You may be able to mix colors or finishes, too, as long as the arrangement looks unified. All of these nesting stands feature identical twig-shaped legs and crosspieces, antique bronze finish, and tempered glass tops.